I was checking my travel map in Matador and found out that my last international trip gave me the 20th country that I've visited in the world. *insert celebratory confetti* It's not a lot compared to how well-traveled others have been, but I'm pretty sure that I have "itchy feet" and wanderlust.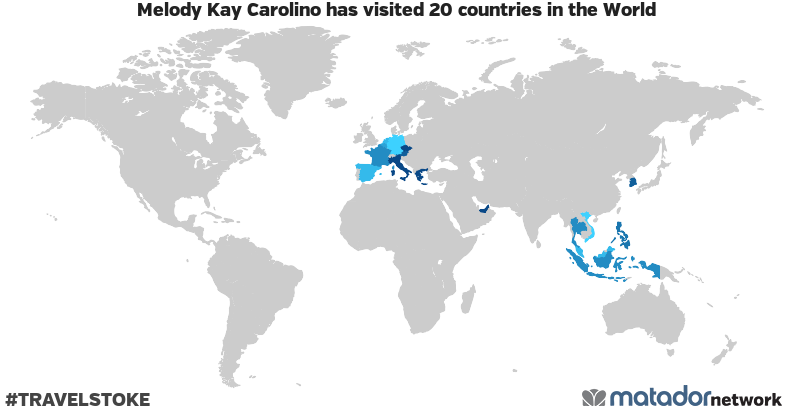 While I love going places–whether local or abroad, I am not a fan of packing. Not at all. I'd rather unpack, which I understand is something that people don't usually enjoy but is to me like opening gifts on Christmas Day. I do not have enough travel funds to ditch the luggage and head to the airport with just a toothbrush, Packing is an essential part of travel, and is definitely one thing you'd need to ALWAYS do if you plan on living life a la millenial who always needs an escape.
I only got the hang of it in the last 3-4 years, but I've recently just been copying and pasting my travel packing checklist via OneNote. So far so good, I must say. I've survived with all of the essentials–whether it be at the hot beaches of Bali, or the chilly streets of South Korea.
I'm sharing with you my checklist of essential stuff to pack for your travels. View the list under the cut.
The Essential Packing Checklist
Stuff for your main bag:
Money
ATM Card
Credit Card
Passport
Another ID
HMO Card (e.g. Maxicare, Philcare, etc)
Cellphone
Charger and Powerbank
Universal adapter
Extension cord (if you have lots of devices to charge; so you won't need a lot of adapters)
Eyeglasses
Watch + Jewelry
Printouts (Itinerary, ticket, boarding pass, reservations, etc)
Medicine
Comb
Lipstick
Lip balm
Basic toiletries–preferably stuffed in one toiletry bag or ziplock:
Cologne
Powder
Sunblock
Deodorant
Mosquito repellant
Toothbrush
Toothpaste
Baby wipes
Tissue
Hand sanitizer
Alcohol
Soap
Shampoo
Feminine wash
Sanitary napkins and liners
Clothes
Touring clothes (depending on where you're heading–you may want light dresses for sunny places, and lots of layers for some place cold)
Jacket or cardigan (for cover up)
A nice dress (in case something not-casual comes up)
Lounging clothes (in case you're chilling at your hotel/AirBnB)
Sleepwear
Swimwear
Scarf (bring 2-3 to easily change up your look)
Underwear (3 pairs per day for safety)
Other stuff
Sunglasses
Plastic bag for used clothes – FIND!!
Tour bag
Cap/hat
Slippers
Sandals
Rubber shoes